Elevated Brain Damage & Microcephaly
After Exposure to Common Mosquito Control Pesticide
Source: Neurochemical Research, 19(5):569-574, 1994
VIEW ORIGINAL ARTICLE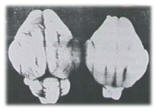 Microcephaly is a medical condition in which the brain is considerably smaller than normal, resulting in decreased intelligence and behavior problems. Although the research described here is not directly linked to living near agriculture, it does show how common pesticides can cause microcephaly. The chemical trichlorfon is an ingredient in the commonly used mosquito control pesticide dibrom (also referred to as naled).  
The photograph above shows the brain of a normal guinea pig (left) and the brain of a guinea pig that was exposed to the chemical trichlorfon found in the mosquito control pesticide dibrom (right). In this current study, the chemical trichlorfon was found to cause a - severe reduction - in brain weight and shape of test animals.   The timing of exposure appeared to be the key factor in determining whether observable brain damage was apparent.  Brain damage was observed when guinea pigs were exposed to a non-lethal dose of the pesticide between 42-46 days of gestation at levels of 15 mg/kg. Scientists say this time period correlates with the brain growth spurt period for the animal.
The powerful neurotoxic nature of the pesticide was further emphasized when the scientists found that these brain abnormalities did not occur when animals were exposed to the other pesticides tested - soman - TOCP and ethyl-trichlorfon.
Scientists concluded by stating they suspect the nervous system abnormality occurred due to direct damage to DNA at a time when the animals' repair systems are not developed.
CHEM-TOX COMMENT:  The fact that this study shows neurological damage can easily occur in animals (who are often less sensitive than humans to harmful neurological effects) is enough to warrant serious re-evaluation regarding the use of this toxic chemicals over populated areas.
University of Oslo, Institute of Biology
Department of Molecular Cell Biology, Oslo, Norway
Norwegian Defense Research Establishment
Division for Environmental Toxicology, Kjeller, Norway