Mattress Reviews & Testimonials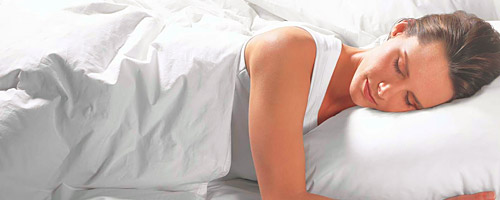 Mattress Reviews & Testimonials
Page 2
TEMPURPEDIC DISASTER
My husband and I bought a Tempurpedic bed a little over a month ago. We both could hardly believe the odor when it was delivered. I immediately got a headache and felt light-headed. I opened the windows in the bedroom, ran an ozonator air purifier on full blast and closed the door as the odor was quickly spreading to the rest of the house. We had given our only bed to the delivery men when they delivered the Tempurpedic Mattress so that night we slept on the bed. I woke up several times due to the terrible odor. By morning I had a severe headache, sore throat, and felt terrible. Things have gone from bad to worse. After two weeks I began to feel itchy all over while laying in the bed. I began to wash ALL the bedding everyday and run the ozonator over the exposed mattress while not sleeping to try to purify it. After three weeks I began wheezing which I have never done before in my life. Two weeks ago I got my period and it has not stopped. I am hemorrhaging from my uterus along with an intensification of all the previous symptoms. My lungs feel raw, my throat hurts intensely all day, my thoughts feel foggy, and I am now bleeding nonstop. I called the company about 10 days ago and they assured me the bed was nontoxic. I have been second guessing myself because my husband's reaction has just been a disgust with the odor with little other symptoms. We both are grateful to have a comfortable bed, so I have been hoping this would all pass. Today I felt so sick and weak I have been searching the internet to try to see if anybody else was having trouble. Thanks for all your feedback. You may have saved my life. I am hoping I can recover. I can hardly remember what it feels like to be well. I will be calling the company to return the bed and have decided to get a Natural bed. Please contact me if anyone knows anything regarding any class action lawsuits against Tempurpedic.
McCormick, SC
Email: roselieta at wctel.net
---
Tempur-Pedic Pillows - Neurological
Yesterday my wife and I purchased 2 queen-size Tempur-Pedic pillows in hopes of relieving our long-term neck problems. We were told that the odor would disipate within a few days. They were extremely comfortable so we accepted the "temporary" toxic odor. I awoke at 3:00 a.m gasping for breath and was VERY dizzy. I went back to sleep (or passed out) and within an hour the situation had worsened. I threw the pillow off the bed and tried to get back to sleep. At this point, I felt extreme nausea and light-headedness. When I attempted to get out of bed, I passed out and luckily fell back onto the mattress avoiding any injury. My wife experienced no problem (yet). They're going back to the store today and if they don't offer a refund, we will unfortunately dispose of them in the nearest landfill. What a waste of $180.00!!!!
Cooperstown, NY
Email: wildginseng at catskill.net
---
Simmons Beautyrest Quebec pillow top mattresses
After suffering from severe backaches for the past 1.5 years, I decided to look up the brand on the net to see if there are recalls or something related to the worst backaches in my life, to the point I am no longer able to drive myself any further than 5 miles away. My husband, a physician also has horrendous backache upon waking up not to mention we've had sinus and severe allergy and headache since this bed from hell entered our lives. How are they allowed to get away with all this???? Pine Bush, NY
Email: jordanpinebushny at aol.com
---
Breathing Problems - Sealy Posterpedic Mattress
I brought the new mattress ever since I been having trouble breathing and itchy feeling when go to bed, I have been trying to air out . I took the pillows out the room, it seem to help some. we are not able to return it since it was a sale. next time when i buy a mattress I will buy a chemical free one. Don't make the same mistake like we did.
Pasadena, MD
Email: gwitles at yahoo.com
---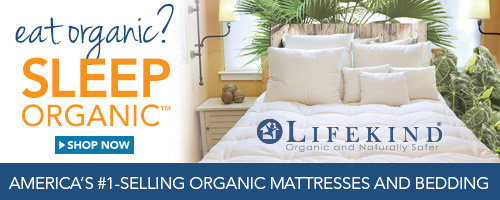 ---
Chronic Cough
I have a showroom with the healthiest beds and pillows you could find on this planet. In order to be fair I will not comment on what brand of beds I sell, I just want to touch on a few (8) personal customers who have suffered from chronic coughs, while they have spent their nights on Memory foam type pillows. These customers changed their pillows to all natural downpillows, and in each and every single case they reported back the fact that in about 2-4 weeks their coughs were gone. Though we don't know as of yet at what point the coughs will be reversible, it may depend on how much time you have spent on the memory foam product. Also do NOT get fooled regarding Natural Latex. That a mattress could be built from 100% natural Latex is a bold faced lie, and current laws of the United States provides the loop hole. I am responding to this website because I am so angry that the general public is being mislead and lied to by mattress manufacturers. A lot of people can stand the chemicals stuffed in our beds, others cannot, and you deserve to know the truth as a consumer! If a store or manufacturer shy's away from your questions about what is inside their flame retardant, percentage of chemicals in their "All Natural Latex Beds" etc. Be aware, the solution to your problems is as simple as Nature itself!
Best of luck! Los Angeles, CA
Email: Bedwizzard at aol.com
---
Tempurpedic Is a Killer
I bought (2) queen size pillows. Detected no odor in store from them. However once taken out of box and plastic I caught the smell right away but at first was not alarmed. 1st night I did not detect anything other than the smell. Ironically 2nd day was my eye appointment. He said I had an allergy in my eyes and it was quite bad and he put me on steroid drops. I had never had this before. 2nd night I started wheezing, runny nose, swollen eyes, throat closed up, ringing in my ears, legs were jerking, itchies from hell in my hair, when I stood up I passed out. My husband tried to help me, he too fainted! Our room smelled like rotten eggs until we were smart enough to figure out it was gas from the pillows and threw them out. He recovered faster than I did. I am still sick and the pillows have been gone from our bedroom for 4 days now. I have to see a Pulmonary, Allergist and Neurologist doctor to see if there has been any long term damage. After all I have read on here, I am convinced I am not alone and something should be done. Anyone can E-mail me that wants to. I have reported Tempurpedic to the "U.S. Consumer Safety Product Comm." and I hope more people do so who are being affected from being made sick by the gassing-out from these chemicals.
Ormond Beach, Florida
Email: Flecuona at aol.com
---
Tempur-Pedic - Smell and allergy symptoms
We purchased a Tempur-Pedic mattress about two weeks ago, and the first night it had a real bad smell, the smell seemed to get worse from our Body Heat and when I turned on the Electric Blanket. I am prone to allergies, and within 2-3 nights I developed substantially increased coughing and sinus problems and tight breathing, I have a mild asthma problem. I immediately suspected the bed, and so did my Doctor. I slept in another bedroom just one night and the symptoms got considerably better the next day. We are sending the mattress back, and hoping a Latex mattress will work. Got some information from an environmental Doctor I have gone to and that is one type they recommended. Unfortunately the store only has one brand, and they will exchange, but won't refund. Sleep Country? Hope it works out.
Seattle, WA
Email: caloveg at yahoo.com
---
Serta "Roseberry" with fire-blocker had intolerable smell
We bought a new, firm "Roseberry" Serta Perfect Sleeper priced at about $1,000 and were very disappointed that the smell of it made it impossible to even be in our bedroom. After 2 weeks of "outgassing" it with the windows open and fans on and very little progress, meanwhile with us sleeping in guest rooms, the store exchanged it for a floor model which has outgassed for 5 months in the store. This second bed seemed to have no smell in the store, but at home it's noticeable that there's a strong smell somewhat like drywall dust. After one night of sleeping on it, I know I'll either have to return it or zip it completey up in an impermeable mattress cover. So far the store has been very helpful and one worker told me that another person had returned the same bed model due to smell.
Maui, HI
Email: holamaui at earthlink.net
---
TempurPedic causing hives?
My husband and I accepted delivery of our new Tempur-Pedic mattress just a few days ago. We were so excited about the new sleep experience. Since my first exposure to the bed, however, (just walking into the room where it is located), hives began to appear on my body. Let me emphasize, I hadn't even SLEPT on it yet! I immediately noticed the chemical smell in the bedroom and mentioned it to my husband. He said it would dissipate in a few days. Since I had experienced a period of hives a few years earlier and I suffer from multiple allergies, I assumed the hives were being caused by something I ate. I attributed the sore throat and cough to an on-coming cold -- until I started reading the stories on this website! I proceeded to sleep on the bed for the next couple of nights and for the past few days, I have had moderate to severe hives all over my body as well as a sore throat and dry cough. (I am typing this at 4 am and have been up since 12:30 am because of the hives.) My husband has been sleeping wonderfully on the bed, but I think we will likely return it after all I have read here. Thank you everyone for helping me figure out what is causing my misery.
Maryland, USA
Email: diane.kollmorgen at alpharma.com
---
Five Days Five Migraines, Constant Sore Throat And Swollen Eyes
I just purchased a Sealy pillow top mattress five days ago...I have been deathly ill with massive migraines difficulty breathing sore throat itchy eyes and extreme stomach pains for some unknown reason I decided to type in Sealy toxic fumes and this web site appeared I am returning the mattress tomorrow and am told by the salesman that a natural latex material would be better for me ...Wow buyer beware.
ALBANY, NY
Email: angelmaryellen at yahoo.com
---
How about a solution.
I'm in the market for a new mattress and I'm concerned about these issues. Has anyone considered a latex mattress. It would seem that a 100% natural latex might be the answer. Make sure it's the 100% natural though, some latex contain chemical additives.
Carlbad, Ca
Email: dsp1477 at aol.com
---
Simmons Beauty Rest Nightmare
I purchased a king size Simmons Beauty Rest mattress and box springs in March of 2003 and 16 months later I'm still living the nightmare. Since purchasing the mattress and boxspring I have experienced the following symptoms: a nervous and anxious feeling, unable to sleep, irritable, tingling in the hands and head and a stuffed up nose. I have been to 3 different doctors trying to find out the cause, I have had my ducts cleaned in my house, had the furnace and central air cleaned and inspected and I have had the air tested in my house for mold - all to no avail. I have since moved the Simmons mattress and box spring to the garage with plastic around it and my symptoms have gone away. But now I'm out a bed and sleeping on the sofa or a hide away bed. Is there anything that can be done - the warranty only lasts for a year!
Castle Shannon, PA
Allegheny
Email: Brian.Walker at Comcast.net
---
---
Cannon Mattress - Itching, Rashes, Sleeplessness, Swollen Eyes
About a week after I started sleeping in my new mattress (bought at mattress.com) I began developing symptoms. I didn't put it together until yesterday, but my body is covered in a terrible rash. I didn't sleep in my bed for the first time last night, and it was the first time since I bought my bed that I didn't itch throughout the night. This is a NIGHTMARE! Why in the world would they put such terrible chemicals in my bed? I know its the bed because nothing else in my lifestyle has changed. The rash is all over my body, including my scalp. My eyes are swollen when I wake up, I'm extremely tired, and I wake up with sore throats. I'm seriously depressed because I can't get any sleep and I just spent 500 dollars on this new bed. I'm a student, so buying a new bed right away is going to be difficult. I guess I'll just have to sleep on the couch. Does anyone else have symptoms like this?
Emeryville, CA
Email: itsatsos at yahoo.com
---
Tempurpedic Testimonial from Hell
After researching the best bed to buy for a long-term chronic pain problem due to multiple neck injuries, I settled on a Tempurpedic Adjustable Queen. I purchased the bed from a local furniture store as a non-returnable special order. After the bed delivery, a horrific smell permeated my home. A tag on the bed and Tempurpedic's website assured that it was non-toxic and the smell would dissipate within a couple of weeks. After about 3 weeks the smell was still awful, my sister said it smelled like "dirty socks" in my home and asked how I could possibly sleep on a bed with that horrible odor. Additionally, I was noticing that I was waking up much more stiff and sore in the morning, but attributed it too the comfort of the new bed and the fact that I was not moving around as much at night because I was able to find a better position. My feeling un-well began to escalate to severe, flu-like, deep muscle and bone pain. Much worse and more wide-spread than the chronic pain I purchased the bed to help relieve. I also had escalated feeling of anxiety, depression and panic. I barely had enough energy to walk from room to room. After seeking the advice of a number of health care professionals I discovered that the Tempurpedic bed was so toxic to my system it could have "killed" me. I have had to work diligently to get the bed returned and have my money refunded. There are chemicals in almost every aspect of our lives and they are causing dis-ease in epidemic proportions. Nothing can change, without awareness. May you all find wellness.
Ann Arbor, Michigan
---
My Mattress is Making Me ill !
We recently purchased the Tempurpedic mattress and the smell is awful! Our room smells like it, our clothes our skin, and is making us very ill!! I do not recommend it at all!!
Fitchburg, MA
Email: Kneads52 at hotmail.com
---
Carpal Tunnel Problems from Foam Mattress Topper
I bought a memory foam mattress topper and aired it out for 5 and one half months before putting it on our bed because of the smell (it still smelled). I immediately developed the symptoms of carpal tunnel problems in my right arm - sore inflamed wrist, weakness in my fingers, sore shoulder, and my arm throbbed at night. I shifted most of my computing and work to my left arm which helped ease the pain. I noticed that my problem would start to go away when I traveled away from home and thought that this was because I was not working on a computer. However, when I had an extended period at home when I did not work on the computer but my problem continued to get worse, I began to wonder. I realized that the problem began when I installed the foam topper and then searched for information. I found this site and realized it could be the foam. I removed the topper and had a significant improvement after one night and the problem was almost completely gone in one week. While the topper was on the bed I also noticed that I seemed to sleep very deeply but I was always tired and could not seem to get enough sleep. This also went away when I got rid of the topper.
Columbus, Ohio
---
Deathly ill after sleeping on new Sealy mattress
We purchased a new Sealy mattress (06/28/04) and after sleeping on the mattress, I had hives, the skin on my face felt burnt and was red and tingly. My throat started burning, my chest and face got extremely hot, I went to the emergency room once and visited my doctor once. I am now developing a cough and my tongue has a metallic taste. It appears from the other comments that others have had the same experience. I feel as if I have been poisoned. What if anything can I do?
Lexington, NC
---
Nautica Pillows Give Sinus Reaction
My wife bought two new pillows replacing the old tired feather ones we had. I woke up in the middle of the night and it was like the Hoover damn had burst inside my nose and sinus cavities! I threw the pillow on the floor and went back to sleep waking a few hours later with the symptoms almost gone and gone completely a couple hours after I got out of bed. For whatever reason, my wife didn't seem to be affected. I strongly suspect I had some sort of allergic reaction to something in these pillows - but what?
Boston, MA
Email: mike at rddane.com
---
Simmons Beauty Rest Nightmare
I purchased a king size Simmons Beauty Rest mattress and box springs in March of 2003 and 16 months later I'm still living the nightmare. Since purchasing the mattress and box spring I have experienced the following symptoms: a nervous and anxious feeling, unable to sleep, irritable, tingling in the hands and head and a stuffed up nose. I have been to 3 different doctors trying to find out the cause, I have had my ducts cleaned in my house, had the furnace and central air cleaned and inspected and I have had the air tested in my house for mold - all to no avail. I have since moved the Simmons mattress and box spring to the garage with plastic around it and my symptoms have gone away. But now I'm out a bed and sleeping on the sofa or a hide away bed. Is there anything that can be done - the warranty only lasts for a year!
Castle Shannon, PA
Email: Brian.Walker at Comcast.net
---
Stearns & Foster Concerns
I have been considering buying the Stearns & Foster Euro Pillow top mattress called Silver Dreams.. After being on the website I am afraid to buy anything now.. Has anyone had any problems with this mattress?
Philadelphia, PA
Email: mabercrom at aol.com
---
Simmons Beauty Rest causes DEATHLY ILLNESS
I got sick after one night on my 'new' Simmons Ultra Plush Pillow Top Beauty Rest. I was deathly ill for 3 weeks before my partner made me sleep in the other room. After 10 days I was better. I didn't want to believe it was the bed. I started sleeping in it again. 5 days later the symptoms returned, and then SHE started getting the same symptoms. I contracted a very serious upper respiratory infection. Puss pockets all over the back of my throat, terrible bronchitis, achy flu like symptoms all over my body. I was out of work for 6 days. The terrible burning in my throat was the worst pain I've ever experienced. Now the store won't take it back. Please tell me where I can sign up to sue their asses off! Don't buy anything from Simmons or Sleep Country.
Woodinville, WA
Email: drpoarch at juno.com
---
Simmons Beautyrest Suspected Cause of Arthritis & Allergies
WE paid $1100 for a queen sized mattress thinking we were buying a good one. After tearing the bedroom apart over and over again and washing sheets, blankets, and comforters day in and day, I figured out where the horrible odor was coming from. I kept smelling the top of the mattress cover which smelled fine. The odor is coming from the sides of the mattress and box spring. Since we have had this mattress both my husband and I developed severe arthritis and allergies. I did contact the local store that sold it and am meeting with the manager to pick out a new one. Has anyone else had an odor problem with Simmons?
Chippew Falls, Wisconsin
suds at execpc,com
---
2 Year Old Started Vomiting After Sleeping On A Spring Air Mattress
We recently purchased a Spring Air mattress for my 2-year old daughter who was transitioning out of her crib. The first night, after sleeping in the mattress for about 4 hours she awoke crying and vomiting. We took her into our own bed to comfort her and she continued to vomit every half-hour all night long. The next day, she seemed to be a little better but she continued to sleep in bed with us just so we could watch her. On the third day, she seemed to be feeling much better so we put her back in her "new" big-girl bed with much fanfare. Two hours later she awoke vomiting AGAIN! I am certain that her sickness is because of the new mattress. We are returning it back to the store as soon as possible. Please contact me if there are any updates, or if someone has a similar story.
Chandler, AZ
smweichert at cox.net
---
Memory Foam Mattress - Suspected Cause of Allergies
I bought my memory foam mattress, a knockoff of the Tempur-pedic mattress, 1ess than a year ago. At the time and up to now, I have never noticed a "smell" coming from the mattress. However, I just barely started realizing that something was making me have allergy symptoms, like post nasal drip, mucous in the throat (I have to keep clearing my throat otherwise I sound hoarse),) dry cough especially at night. Sometimes, the dry cough would keep waking me up at night. It comes and goes, I don't always have it. For sure though, the post nasal drip that I have especially in the mornings, the watery nose ( I bend over and water runs out of my nose,.) I started narrowing down the area where I had the stronger symptoms. I noticed, since I have a phone in the bedroom, that when I sit down to talk on the phone, I would also start getting that dry, scratchy throat, which makes me cough while I'm talking. Just the other day, my husband took off the terry cloth cover from the mattress and let me tell you, that day my voice was so hoarse, and I was sneezing like crazy. I thought to myself, I bet this is it! But how, I had never heard of such a thing. So I started looking up memory foam, and allergy boards and finally got here.
Texas
---
Spectra Foam Mattress Reaction - Class Action Lawsuit Inquiry
I purchased a memory foam mattress by White Dove Mattress Company. As soon as I started sleeping on it, I started having sinus and bronchial problems... The doctor put me on 2 different types of antibiotics for the flu like symptoms, severe headaches, chills, cough, sore throat and sinus problems. I just kept feeling worse instead of better and because I was sick I was lying on the bed all day not realizing that I was being poisoned by my mattress and the smell that I was inhaling were fumes that I was severely allergic to. I went to the doctors again and now I had severe sinusitis and severe rhinitis and was still wheezing and coughing. I feel like it's affected my memory and I just can't think clearly at times. The furniture store did come and take the mattress out of my house and they brought me a latex mattress which is supposed to be naturally hypo-allergenic and is advertised not to de-gas. I am very sensitive to smells now and I can smell a rubber-like smell on this mattress...but it doesn't smell like a chemical. I'm hoping that it will go away soon. I'm still fighting all these symptoms and am on prednisone therapy now because my immune system has been affected and I can't seem to fight anything off. I hope someone gets a class action suit started against these companies. If anyone would like anymore information, please email (address below). I will keep everyone posted as to my recovery and how this latex mattress works for me. It's hard to tell right now when I'm still sick.
Struthers, Ohio
Tangie452 at aol.com
---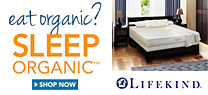 ---
Allergy to Simmons Beautyrest
Within minutes after he plastic around our new mattress was removed my eyes began to itch, my throat felt sore and I began to wheeze. I do suffer from several allergies and would seem to be allergic to my new mattress. I immediately rewrapped it ready to be returned to the store. I am now researching organic mattresses. Any info on these would be appreciated. I do not believe I will be able to have a latex rubber one as I am latex intolerant from working in health care.
Toronto, Canada gaddabout at hotmail.com
---
Cancer appears in dog after bed purchase
About 3-7 days after we received a king size Sealy Pillow Top Mattress, our dog began to show signs of lymphoma (a type of blood cancer) . The mattress had a strong chemical (plastic) smell for 2-3 weeks . The dog was 50 lb, 14 yo, and on Rimadyl . She started coughing, then had loose stools, followed by loss of appetite. She was diagnosed with lymphoma about 3 weeks after we received the mattress. Does this seem possible that the cause was the mattress chemicals? Thank you for any input !
Mary Souveroff
starcastle7 at earthlink.net
---
Purity Products Sleep Topper Memory Foam Mattress Topper
We ordered a Sleep Topper Foam Mattress Topper from Purity Products in January of 2004. I put it on our spare bed the first night and slept on it. My husband slept on our waterbed in the master bedroom. I woke him up at 3:30 in the morning because I felt so horrible. I had a migraine type headache, nausea, dizzy, confusion, aches, pains and difficulty breathing. He had a slight headache himself and he had been in another room. We thought it was just the flu or maybe some residual paint fumes from a room we had painted except that he was not as sick as I was and he was sleeping in the room. The next day we discovered the problem was the mattress topper pad I had purchased. It even said on the paper work that it would smell for awhile. I was not willing to go through that type of illness again. I sent the Purity Products Structure Memory Foam Topper back.
Fort Worth, Texas
CRonBekiC at charter.net
---
Sealy Benning Eurotop Mattress
I just purchased this bed, but do not have it in my home as of yet. I came across this web site and am now getting concerned. Has anyone had any problems with this mattress? (Sealy Benning Eurotop)
Iron, Mn
cjbuk at cpinternet.com
---
Tempurpedic Mattress again linked to Health Problems
Two weeks ago we received our new mattress. I have had a VERY bad sinus infection along with terrible body itching. I had bad wheezing and have been to my doctor several times for breathing treatments. After going to bed I'd become very restless and very depressed and cry a lot. The smell was on everything and even on my skin. I am returning it, but I begrudge the $150 send back charge along with the fact, the pillows they gave me were "free" but upon return they will not take them but charged me another $50 apiece for them. I am now waiting for a new Sealy Posturpedic. I pray that this will be fine. I would like to be part of a class action suit against the Tempurpedic Company.
North Ridgeville, Ohio
sholtisfamily at alltel.net
---
Ikea Mattress Odor Problems
Ikea has a problem with foam odor. I recently moved and had a year old Ikea mattress stored by a moving company in a large cardboard mattress box. It had a unpleasant foam odor similar to old car seats when we slept on it. The six months of storage did not help either. We don't have any signs of chemical illness, but just cannot sleep on a smelly bed. This will be the second one year old Ikea mattress we'll have to discard due to odor. They seem to get worse as time goes on. Until Ikea can address this problem I would discourage anyone from purchasing a mattress from them.
Huron, OH
---
Tempur-Pedic - Terrible Smell
I have had the Tempur-Pedic mattress for two weeks. Noticed the terrible smell the first night on it, which seems to increase with body heat. The manufacturer says the odor will disappear after a few days, but truthfully it is getting worse, permeating sheets and bedclothes. I can almost taste it! Airing out the mattress does no good whatsoever. I wake up groggy, headachy and nauseated, unable to think straight. Hope this stuff does not turn out to be carcinogenic - like asbestos, maybe? Does anyone really know?
Valley Stream, NY
Email: summer11580 at optonline.net
---
Migraines and nausea from new King Koil pillow top mattress
I can't believe I found this website with people explaining similar issues with their new mattress. I have had my new mattress for about four weeks now and I've had my windows open on a regular basis to try to air out the smell. Once I put the sheets on with the mattress pad it seems to hold in the odor and I have to change them again in three days. I thought I was developing allergies so I went to my primary care doctor and an allergist. They concluded that I was allergic to dust and that I could be getting migraines. So I have been taking allergy medication and it hasn't helped at all. My headaches got so bad that I had to get a prescription for migraine medication. I still have a headache now and cannot wait to replace this new mattress. I called Mattress Giant where I bought it and they are exchanging it for me. We'll see if the new one has no odor. I hope it's okay. If not, they said I could come in and look at another brand. It seems that there are many brands that have this problem when it involves foam or a pillow top. I've read other articles on the internet and Dow made up a bad batch of chemicals (TCA) and supposedly, it's not hazardous to our health but with the symptoms we are feeling I find that hard to believe. I kept my mattress thinking that it would air out. I was wrong and wish I saw these articles sooner. Thank you for this website. Good Luck to you all.
Oxford, MA
Email: maryfranbolduc at yahoo.com
---
We're buying an Organic Mattress
I found this site by accident, for which I'm grateful. I was trying to find one of those visco-foam bedding companies that might be cheaper than Tempurpedic. I'm not prone to allergies, but I have found that, as I get older (I'm 43) and the healthier I get, I am growing increasingly intolerant of funky chemicals. After I found out the true chemical name of the foam, I said to my husband, NO, we are not having that crap in this house! (an organic mattress was our second choice after the foam jobbie, till I found this website) - Never eat anything or sleep on anything you cannot pronounce! Anyone looking for an organic bed or bedding might want to check out www.lifekind.com. I hope that you poor souls having trouble on this list find relief, and thank you very much for helping to prevent me from making a very costly (and apparently smelly!) mistake!
Indira Moyer
Marietta, GA
Email: shakti0925 at yahoo.com
---
STINKY mattress problem - Temporary Solution
I went out and bought a King Sealy mattress from a warehouse store. The original price was in the thousands...but lets just say I got it cheap. When I got it home and placed the sheets on it....WOW, the smell just about killed me. I figured it was because I bought it from the warehouse, scratch and dent store. Although, I thought there is no way this can be new like they say, but a little dirty...After reading this page...I guess not! I went to Walmart and bought a zipper vinyl cover for the mattress. I slept well last night. It just about does away with the smell. For those of you who want a little relief...Try this.....It helps for now....We will see what the future brings....
Magnolia, Texas
CHEM-TOX COMMENT: While a vinyl cover can block chemicals "evaporating" from the mattress, the vinyl cover itself emits its own controversial chemicals and should therefore be used only as a temporary remedy.
---
Beautryrest Nightmare - POOCHY Mattress with Memory Foam
Today is September 13th & my husband & I just received our 2nd Simmons 'Beverly Hills Extra Plush' (Beautyrest) Mattress, our 1st mattress had a horrible odor which permeated our sheets, pillows & comforter. The 1st night we slept on our mattress I experienced a migraine headache. We both woke up feeling achy with flu like symptoms (severe headaches, body aches which include neck & shoulders, sore throat & coughing). In addition to that I experienced severe tenderness in both my breasts. We actually thought we were coming down with the flu. We have taken medication for sinus problems, allergies, flu like symptoms to no avail. We still feel miserable. I am so fatigued that I have caught myself nodding off at work several times a day plus my chest feels like it is caving in. Our 2nd mattress has the same odor. We have decided not to sleep on our 2nd mattress. We went back to the store & got an exchange, this time our mattress does not have the memory foam. It s a pillow top with foam & it s a Simmons. Hopefully this new mattress will be just fine. Wish us luck. I will come back to this site and add comments about our 3rd mattress. If you would like to email us about this issue, please email Eddie & Lisa (dozaetl at comcast.net) & use mattress or something related to that as a subject header. Thanks!
Allen, Texas
---
Memory Foam Mattress
I've just purchased a Memory Form mattress (similar to a Tempur Pedic, but unforntunately the $200 price reduction means no 90 day return policy), and have had headaches, a sore throat and sinus problems ever since from the out-gassing. And on top of that, I've had worse back problems than before. The retailer I purchased it from claims a no-return policy from this manufacturer, but I haven't even begun to be the impossible customer yet (so we'll see). Wondering if anyone else has had any success at getting the manufacturer to take the product back? I haven't personally investigated this option yet, but found a possible natural latex replacement from the following company. Has anyone had any experience with this product?
tdalessio at earthlink.net
Colorado Springs, CO USA -
---
LINGERING ODOR
We bought a Simmons PillowTop "Holmes" in Sept, 2002 from Lazarus dept. store. The odor! the denials! by Simmons physical symptoms!...all the same as reported by many others at this site............We were rid of the mattress and replacements by November, 2002. Our symptoms persist (this is 9 months later). Anybody else have lingering odor after removal of mattress?
djklein46 at yahoo.com
Pittsburgh, PA USA
---
Mattress fumes (Probably fire retardant application)
I purchased a Simmon's mattress for our infant 10 months ago. At the time a co-worker of mine, told me about a mattress cover she was going to buy for her newborn's mattress. She was concerned about toxic fumes radiating from the mattress. I asked her what the web address was at the time, but did not think much about it. Now I understand what she is talking about. The mattress did not smell at first, but I have been wondering what this smell was in our baby's room. I could not figure it out at first, but tried airing out the room a couple of times. That seem to help, but it became temporary. I finally figured out it was the mattress, when I was laying on the floor next to the crib. I could smell the fumes coming from underneath the crib. It is ridiculous that we need to have the chemicals applied to our mattresses. How often is there going to be fire near a bed? Most people will die from smoke inhalation, before burning. I am going to ask my co-worker again about the web-site that has the mattress covers. I will definitely buy one. Unfortunately this does not fix the on going problem for all those who are not aware of the issue. Something must be done. IF anyone has a path to take towards speaking out please provide! Thank you
Fishers, IN USA
---
Unhappy in Phoenix
We bought a Tepurpedic mattress. It took several days before the heavy smell of rubber (like in a tire store) went away. It was very comfortable but we notice we started to wake up bone tired and with nasal irritation. In several weeks I noticed a strange sensation in one of my ears and then my wife and I came down with sinus infection infections We took anti biotics and also went on a planned vacation. We felt better and assumed this resulted from the antibiotics. But when we returned two weeks later and started sleeping on the bed we had the same symptoms and decided it resulted from sleeping on the Tempurpedic. So we stopped using it and returned it. We had to pay a fee of $150 for restocking. But what we didn't know was that Tempurpedic would not take back the base that they sold to us. So we spent over 1,600 and received a credit something over1,300. I don't feel we should have to pay either the restocking fee or the penalty for the base because Tempurpedic was not up front about the smell (which abated but never went completely away), or the fact that we couldn't return the base.
Phoenix, USA
---
Lodge a complaint about your stinky, toxic mattresses
I encourage everyone with toxic mattresses to file a complaint with the US Consumer Product Safety Commission at 1-800-638-2772. We will be more effective in numbers. Just this morning they brought my 3rd replacement mattress which I turned down because it smells as bad or worse. And I have gotten nowhere in finding out any info about what chemicals are out gassing from my mattress. I'm deeply frustrated and may attempt to get the media interested in our problem.
junebuggie at nventure.com
Tacoma, WA USA
---
Headaches from Sealy Posterpedic
I purchased a new mattress in October and I didn't have a lot of money to do so but I needed a new one. I went to Art Van Furniture because they had a good reputation for mattress'. I got the bed a few days later and it did smell funny but I thought it would go away in a couple of days. I washed my sheets and new comforter and the smell was still there. I was getting awful headaches and feeling sick a lot and couldn't figure out why. I was waking up and smelling this odor and didn't know what to do and why. I have been staying with my boyfriend and the headaches have stopped. I didn't even realize this was happening till someone else told me they were having this problem. I'm very disappointed I spent a lot of money for a good quality mattress and it turns out they knew that these mattress were going to smell like this and cause a lot of problems. I work hard for my money like everyone else and I would like to go to sleep on my bed and feel comfortable not restless and sick. I wish I would have spoken up sooner.
Davisburg, Mi USA
---
Don't Buy a Tempur-Pedic Mattress!
We ordered a bed and picked up two Tempur-Pedic contour pillows to bring home to try out in advance. We found the pillows to be hard and uncomfortable around the neck area (by comparison, the showroom pillows we excessively floppy, like soft dough). The pillows also felt itchy, even through two pillow covers but we went to sleep on them and I awoke early the next morning with my neck burning hot and numb. I was lying on my back and both of my arms were numb and tingly by my side. On top of that, there was involuntary twitching spasms in my fingers and face. I switched back to my previous pillow for the remainder of the morning. That entire day, both my wife and I had a numbness and tingling sensation around our foreheads, temples, jaws and necks, as well as headaches and woozy and muddled thoughts. Needless to say, we returned the pillows the next day for a refund and cancelled our mattress order. If just a small foam pillow could cause such a toxic chemical-induced assault on our nervous systems, then a full mattress would be exponentially hazardous. The after-affects of those pillows continued for a couple of days after, too. (I guess the fact that this "space-age" foam is NASA-endorsed should have been a warning sign of their toxicity). If anyone knows of any retailers in our area who sell organic mattresses, please let us know. Also, if we find one, we'll be sure to post here to let you know. We're glad we found this message board as it proves consumers aren't "crazy", just the mattress retailers who would try to make us out to be so they can sell their toxic wares to an unknowing and trusting public.
Edmonton, AB Canada
---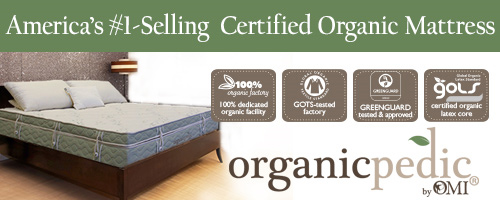 ---